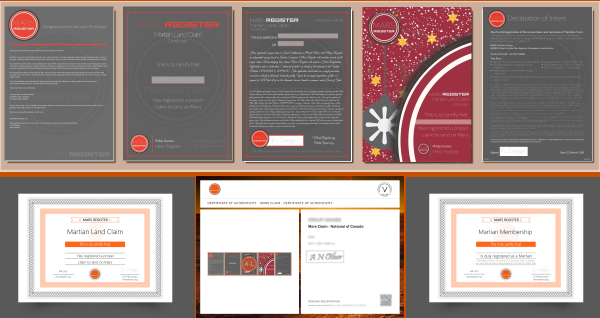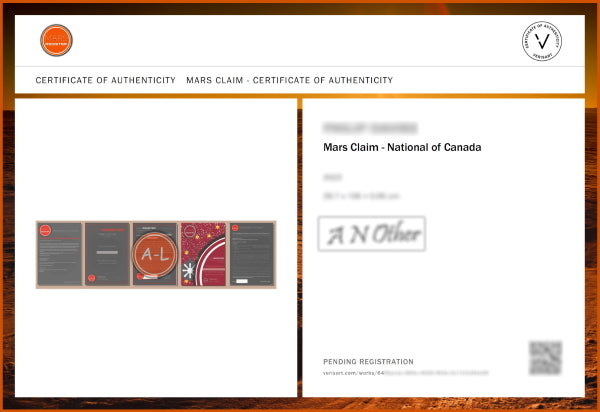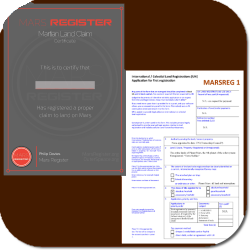 5/ Mars Claims: People From Nations M to Z [~ $19]
Verisart Certificate of Authenticity
Now 33% OFF: ONLY £17 / $19 FOR A CLAIM TO LAND ON PLANET MARS (TO BE ALLOCATED AGAINST A LAND PLOT ON MARS VARYING FROM 9 SQ KM TO 35 SQ KM = 2200 to 8500 acres!!).
These promoted claims are intended for people who wish to buy into a land claim for Mars and have that claim identified and filed against the claimant's name, DOB and also NATIONALITY (MUST be a passport holder for the listed nation ... this will be checked post-registration).
*Your National status will be stamped on the certificates*
"The Heritage Of Mankind": In recording claims for people from all countries of the world (195), we are honouring the ethics of the Outer Space Treaties and thus increasing the chance of a successful outcome (actual claim registration and pressure on the UN to update the treaties).
NOTE: we limit the number of Country-specific Mars Land Claims to maximum of One Hundred (100) per transaction]
*YOU MUST INDICATE NAME, DATE OF BIRTH AND EMAIL [POSTAL ADDRESS IF NO EMAIL] OF THE PERSON TO BE NAMED AS THE CLAIMANT ON CERTIFICATE [AND MORE IMPORTANTLY FILED TO OUR RECORDS AT MARS REGISTER]. YOU MUST DO THIS EVEN IT YOU ARE MAKING THE CLAIM FOR YOURSELF. IF THIS IS A GIFT TO SOMEBODY ELSE, DO ENSURE THAT YOU HAVE INPUT THE CORRECT DETAILS AS THESE WILL COMPRISE THE OFFICIAL RECORD THAT WE KEEP*
The reason for the above requirement is that the claim certificate, unlike so-called novelty deeds sold by other websites, is intended to be a legally valid document & therefore is NOT labelled as a 'novelty gift.'
* PLEASE READ THE "DISCLAIMER" AND "WHAT YOU ARE GETTING" PARAGRAPHS BEFORE DECIDING TO PURCHASE: CLICK HERE FOR INFO
NOTE: THIS PURCHASE WILL GIVE YOU THREE DIFFERENT ITEMS:

1. THE MAIN SECURED CERTIFICATE BUNDLE COMPRISES 5 CERTIFICATES WHICH ARE UNIQUELY STAMPED AT THE BOTTOM OF EACH PAGE (ORDER #ID AND EMAIL ADDRESS OF PURCHASER). THEY ARE SECURED (WONT EASILY ALLOW EDITING). THEY CAN BE PROFESSIONALLY PRINTED AND RECIPEINT NAMES CAN BE MANUALLY ADDED. THIS CERTIFICATE BUNDLE IS DOWNLOADED EITHER AT CHECKOUT OR VIA EMAIL FROM "MARS CLAIM DOWNLOADS" (SENDOWL.COM). KEEP THIS BUNDLE WITH CARE.
2. A WRITABLE (EDITABLE) BUNDLE OF THESE CERTIFICATES (MEANING YOU CAN DIGITALLY ADD THE RECIPEINTS NAME TO THE CERTIFICATES) WILL BE AVAILABLE TO DOWNLOAD VIA EMAIL FROM CELESTIAL SALES  "DIGITAL DOWNLOADS." THEY ARE NOT FULLY SECURE (PARTIALLY SECURED) SO WE RECOMMEND YOU DELETE THIS BUNDLE AFTER EDITING AND PRINTING.
3. A CERTIFICATE OF AUTHENTICITY (COA) IS CREATED TO ACCOMPANY THE MAIN CERTIFICATE BUNDLE. THIS DIGITAL CERTIFICATE IS REGISTERED ON THE BITCOIN BLOCKCHAIN AND GUARANTEES THE FIDELITY OF RECORDS. IT IS AVAILABLE TO MANAGE/DOWNLOAD VIA EMAIL FROM VERISART.COM - YOU WILL RECEIVE INSTRUCTIONS ON HOW TO BRING THIS COA AND THE MAIN CERTIFICATE BUNDLE TOGETHER.
WE SUGGEST YOU REFER TO THE MARS LAND CLAIM USER GUIDE FOR CLEAR INFO ON ALL THIS (SEE LINK ABOVE).
Since March 2020 we no longer send hard-copy certificates through the post. These are exclusively downloadable certificates. We no longer automatically add a name to the certificates - because they are transferable documents (you can sell them - but the sale must be registered with us by the buyer). See "Claim Transfers" page at The Martians website.

-------------------------------------------
Each claim is filed at the Mars Register and entitles the claimant to be included in our "communal possession claim" of Planet Mars. If/when the claim is eventually registered [via UN] with ownership title to the Mars land, a trust (Trust Mars) will be formed. All claimants will be beneficiaries. In that case all claimants will receive a large plot (average 22 Sq Km = 5500 acres) of Mars land  This is described in more detail at the mars.sale website "Overview" section and also on the "what do I get" page: "what do I get?"
Post registration: for all claimants other than a smaller number of preferential land claimants (they get the land they requested), the land plots will be issued by random draw (or possibly first come, first served). All claimants would then get at least one plot, with each plot measuring between 9 and 35 square kilometers in size! Now the beneficial land will probably need to maintained (at least initially) as "common land", but that does not in practice affect its value very much (see the legal issues page at mars.sale: Legal Stuff
 * Several fantastic Independent expert legal teams have analysed our claim/proposal -  Legal Reality Check Reports are now published online. They provide validation of our claim of early possession. Either go to the Mars.Sale legal pages (see link above) or for the very latest info on this, see the NEWS pages at mars.sale: NEWS
NOTE: ALL PRICES ARE IN BRITISH POUNDS [£ GBP]: RECENT UK-EU POLITICAL CHANGE MEANS THAT THERE IS NOW A MUCH MORE FAVORABLE RATE FOR CUSTOMERS OUTSIDE UK [£ HAS FALLEN AGAINST $].
* If you want more information about the purchase process, the certificates and our record of your purchases (for land registration purposes), go to FAQs